VOKOMOKUM is an organic, vegetarian food co-operative in Amsterdam.
VOKOMOKUM is a growing collective of diverse people who want to get their food in an honest and social way. It is being developed on the model of a workers or consumers co-op, whereby each member does their bit. Orders are placed monthly and the pick-up day is the last Friday of the month at Plantagedok. Vokomokum is not an on line shop. We are a hands on co op, not just a pick up point for what you have ordered on line. This is an important aspect of the 'voko' – it's not just about getting good food, but also about social contact and community building.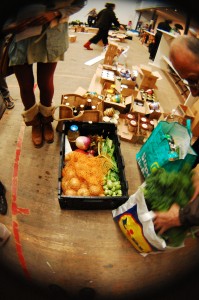 Everyone shares the workload for the benefit of the whole. Members usually put in a few hours every other month, and all members enjoy the benefit of organic food at wholesale prices. Orders are placed in bulk – this means that some orders might not go through each month.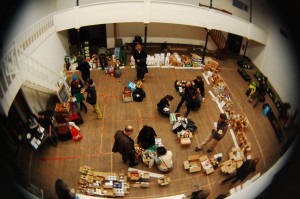 What can you expect from being a member of VOKOMOKUM?
Good quality organic, vegetarian food at almost wholesale prices. A new social network of people from diverse backgrounds with diverse skills. .
Only members can order. To become a member you need to attend an orientation. These take place on the last Friday of the month (check next Upcoming Dates). A non-refundable membership fee [€10 per adult per household max €50] plus a €5 produce crate deposit will be added to your first bill. Before and after the introduction meeting you will have the chance to see how everything works, meet other members and take a look at the products. Due to lack of storage space at Plantage Dok members are expected to collect their order on the pick up day or arrange someone else to collect the order.
All members are expected to join a work group and do a shift every other month to evenly distribute the workload and to familiarize themselves with how the co op runs. People can also donate their time in other ways such as providing help with IT issues, finding new sources for food, administrative assistance, etc.